[ad_1]

A star was truly born as a SCG on Sunday, as all-around young player Cameron Green justified the hype with a stoic then cutting round.
Green, 21, made his way all the way to 50 and then made his way to 84, hitting four sixes in the process.
It was his first try in half a century and on Monday he will seek his first wicket at the top of cricket.
One thing is perfectly clear to Australian coach Justin Langer: Green belongs. Even if it took a little nudge to bring out his offensive instincts.
"Since entering the cricket test it seems like he was almost born to play," Langer said after day four.
"I thought he was a bit defensive in the first innings and that's definitely not how he plays top class cricket and we just encouraged him to be a bit more positive and look to score .
"A lot of people have talked about that six he hit, but I just thought his whole sleeves, the way he was driving the ball across the ground, looking to push it and hit it, it looks like a real number. class and he played beautifully today.
"It will be a relief for him to have his first Test 50, it would have been good for him to have his first 100, but he's a great guy to have around and he does a good job."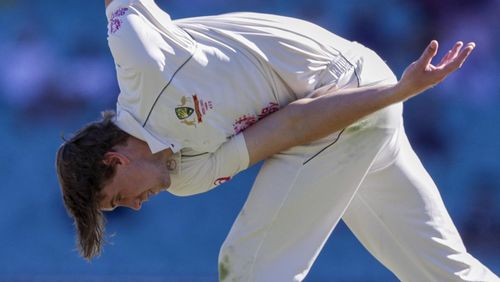 Green has played cleanly and with good pace so far for Australia, but has yet to claim a wicket. He could have his chance on Monday, with the Australians needing eight more scalps for the win, still leading by 308 at SCG.
Australia will lead the four-game series 2-1 if they win.
[ad_2]