[ad_1]

Indian opener Rohit Sharma defended his dismissal in the fourth test, saying it was his job to put pressure on Australian bowlers.
Rohit was caught off long-term Nathan Lyon for 44, as India finished a wet second day at 2-62, behind Australia by 307 points.
It seemed a reckless move, the tall Indian Sunil Gavaskar accusing the veteran of throwing his wicket. But Rohit said he took it upon himself to step up the pace of the Indian stick in what has been a low scoring series.
"I was actually trying to break through the long, deep defender, but it didn't connect the way I would have liked," he said.
"Pretty simple. It was something I won't regret. It's something I love to do. I like to put pressure on the bowler once I'm there, and that's my part in To make sure I keep playing that pressure on the bowlers because we've seen throughout the series how difficult scoring has been for both teams.
"So somewhere, someone has to put their hand up and think about how we can put the pressure back on the bowlers. And in doing so, chances are you are making a mistake and you should be prepared to accept it. .
"I'm willing to accept this because it was a plan. It was something that was not beyond our plans. It was something that we always planned.
"I actually have no regrets about playing that shot. It's something I love to do. Just that Nathan Lyon – we all know he's a smart bowler – played against me, this which made it difficult for me to get some elevation. "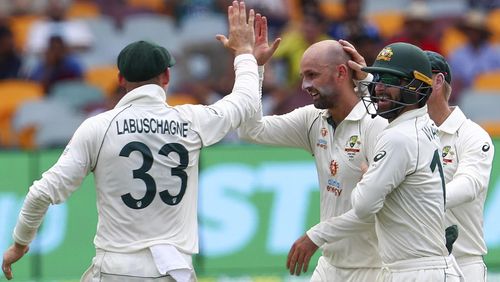 Cheteshwar Pujara (8) and Ajinkya Rahane (2) will resume for India on day three, starting play 30 minutes earlier – 9:30 am local in Brisbane and 10:30 am AEDT.
[ad_2]